Art Rotterdam 2021
TIJDENS ART ROTTERDAM IS DE GALERIE GESLOTEN.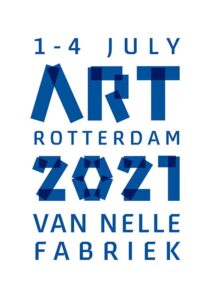 Mieke van Schaijk is pleased to participate in Art Rotterdam 2021, with a selection of work by Alex Frost, Dorota Jurczak, Sarah Szcezsny, Roy Villevoye, pelican avenue /Jochen Weber, Gino Saccone.
With the presentation we call Terminal Solitaire (after a work by Alex Frost) – we let in the primitive, the useless, the digital world that shapes our lives. Work that is strongly involved with the body, pushing the boundaries of contemporary art through their innovative and insightful way of working.
/
Met de presentatie die we Terminal Solitaire noemen (naar een werk van Alex Frost) – laten we het primitieve binnen, het nutteloze, de digitale wereld die ons leven vorm geeft. Met werk dat sterk op het lichaam betrokken is, waarbij de grenzen van de eigentijdse kunst worden opgeschoven door hun vernieuwende en inzichtelijke manier van werken.
---
Kenichi Ogawa Group Exhibition
We want to highlight artist Kenichi Ogawa, who is part of a group exhibition in the Museum for Contemporary Art in Hekinan, Japan.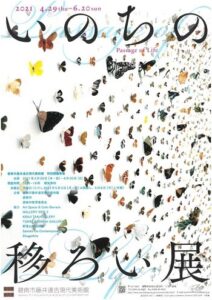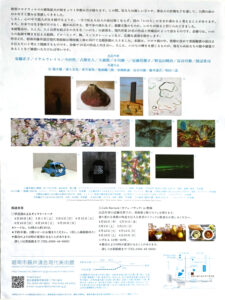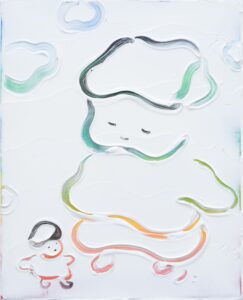 ---
DEELNEMERS JUMP! BEKEND GEMAAKT
Galerie Mieke van Schaijk is betrokken bij het talentontwikkelingsprogramma jump! voor jonge beeldend kunstenaars. De deelnemers voor de derde editie van jump! zijn geselecteerd.
Jump! is een talentontwikkelingstraject voor jonge beeldend kunstenaars in Noord-Brabant met als doel talenten na hun academische opleiding verder te helpen in hun ontwikkeling en te ondersteunen in het opbouwen van hun beroepspraktijk. Bijzonder is dat 3 galeries, een museum, een werkplaats (Make Eindhoven) en een presentatie-instelling hierin samenwerken en kennis en netwerk beschikbaar stellen.
De samenwerkende organisaties hebben 12 deelnemers gekozen uit een longlist van talenten.
De deelnemers van de 3e editie van Jump! zijn: Sanne Bax, Femke Dekkers, Mike Dings, Mirte van Duppen, H.U.T. Kollektief (Koen Reijnen en Thomas Koevoets), Martijn Linssen, Ema Vanekova, Bo Stokkermans, Teun Welten, Wessel Verrijt, Zoë d'Hont en Nina van de Ven.
Op dinsdag 16 maart hebben de deelnemers en samenwerkende kunstinstellingen in ons grote pand coronaproof kennis gemaakt. De talenten zullen het komende anderhalf jaar regelmatig als groep exposeren.
Jump! maakt deel uit van TalentHub Brabant, ontwikkeld door de Brabantse professionele kunst- en cultuursector, Kunstloc en de provincie Noord-Brabant. Foto Loek Blonk.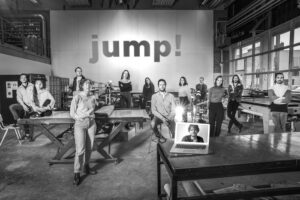 ---
FACE-MASK-SCARF
STAY SAFE, STAY WARM.
WE ARE SELLING THESE BRAND NEW FACE-SCARF-MASKS BY pelican avenue.
FOR THOSE WHO WANNA GET ONE FOR UNDERSTANABLE REASONS.
PRICE € 40,00
It is a seamless knitted Face-Mask-Scarf which is super light and easy to wear.
You can pull it down and up again whenever necessary.
It is sustainably Made in Italy using leftover cotton yarns and elasthane for the smoothest fit and full flexibility.
Since this is a fitted mask, it is safe to wear according to the current Belgian standards.
You can wash the mask in a 60 degrees washing cycle.
* Available in 4 colours: BLACK/GREEN/BLUE/PORTO
* Available in 2 sizes: S/M (womens size) and M/L (mens size) for more information please contact us.
info@miekevanschaijk.nl 0031 (6) 23690189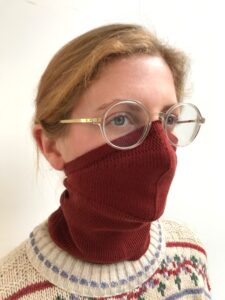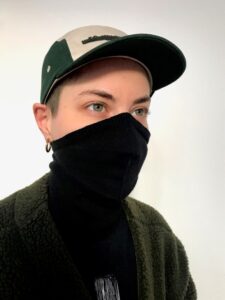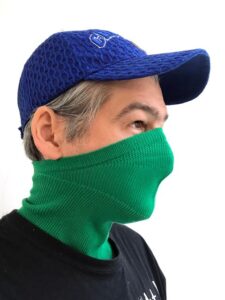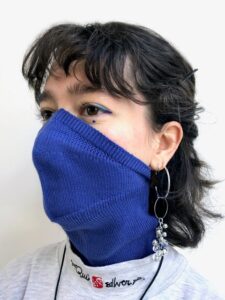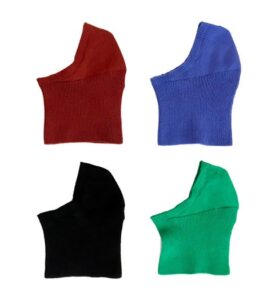 ---
pelican avenue fine knitted bodysuit
pelican avenue fine knit body suit, REEF_REVERSE, 2020
(Left) worn here by performance artist Krõõt Juurak (wearing size Medium)
photography by Maria Ziegelböck
available S-M-L
fine knitted shape-knit stretch bodysuit with double shoulder straps and snap
closure in the crotch
72% Viscose 21% Polyamide 7% Elasthane
Made sustainably in EU
(Right) worn here by artist Lucy McKenzie  (earing size Medium)
photography by Mauricio Guillen
available S-M-L
price € 288,99
price incl VAT, price ex shipment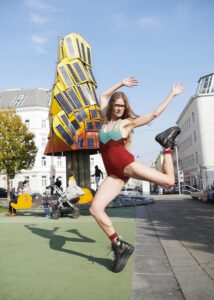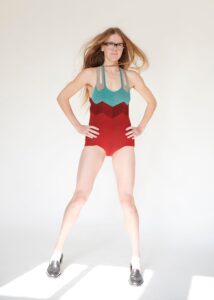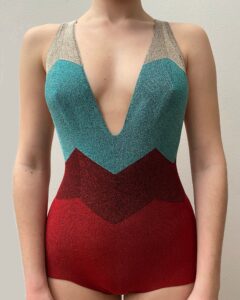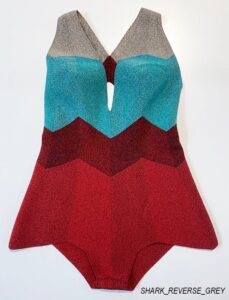 ---
Dennis Tyfus Skins, Brains & Guts
Closed. Please email info@miekevanschaijk.nl for more information, or tour the exhibition in 3D on our website.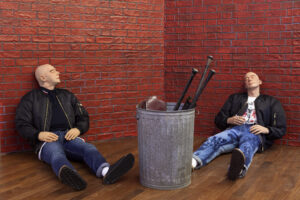 ---
Alex Frost is nominated for the Art Rights Prize with his Video "Wet unboxing"
you can view the whole show in VR here: art rights PRIZE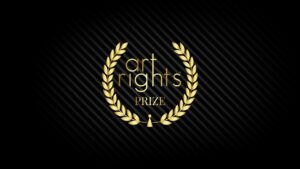 ---
Graduation Show 2020, AKV St. Joost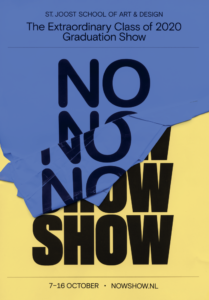 From October 7-10 the AKV St. Joost School of Arts & Design proudly presents on 5 locations in Den Bosch the NowShow, it's the Graduationshow 2020
Next to het Noord-Brabants Museum, Theather Artemis, De Melkfabriek, gallery Mieke van Schaijk /Blauwe Paviljoen is one of their venues.
With works by: Wanda Tiersma, Kiki Bouman, Tosja van Liehout.
During this Graduation Show, a  varied programme of exhibitions and events at various locations in Breda (first week) and Den Bosch (second week) and online presentations, performances, installations,
films, animations, artist talks, Q&A's are presented on an online platform that is accessible to everyone called nowshow.nl.

With this Graduation Show 2020 the artists and designers of the future show in surprising,
critical, professional and creative ways their adaptability in this special time.
Real live: the gallery open it doors 7th October 15-18.
8-9 October 13-18 Sunday 10th October 13-17
Online opening: 7 oktober, 20.00-21.30 uur – nowshow.nl
---
Museum Jan Cunen
3 oktober tot en met 31 januari 2021
Jump! Springplank voor talent
Deze tentoonstelling staat bol van talent. Bij Jump! is het werk van acht talentvolle beeldend kunstenaars te zien, aan het begin van hun carrière. Je krijgt hier de kans om het allereerste werk van de nieuwe groten van Nederland te aanschouwen. Van schilderkunst tot sculptuur en van installatie tot videogame: deze tentoonstelling laat de toekomst van beeldende kunst zien.
Jump! is het talentontwikkelingstraject voor jonge beeldend kunstenaars in samenwerking met vier Brabantse galeries, in samenwerking met Kunstloc Brabant en de steun van provincie Noord-Brabant. Een prachtige springplank voor het maken van een netwerk, kennisoverdracht en deskundigheidsbevordering voor de pas afgestudeerden.
De vier Brabantse galeries – Jan van Hoof Galerie (Den Bosch), Galerie Mieke van Schaijk (Den Bosch), Luycks Gallery (Tilburg) en Galerie Nasty Alice (Eindhoven) – bieden een groep talentvolle kunstenaars een coachingstraject aan. Anderhalf jaar lang volgden de kunstenaars zowel een gezamenlijk als een individueel traject. Hierbij kregen ze alle ruimte om zich op artistiek vlak te ontwikkelen naar een volwaardig kunstprofessional.
De deelnemende kunstenaars zijn: Fang Mij, Guido van Amelsfoort, Jeroen Duijf, Maurits Wouters, Murat Yildiz, Remy Neumann, Rijkers & Blonk, Tessa Chaplin
---
"Commentaar op gulzige wereld met een vette knipoog" door Mark van de Voort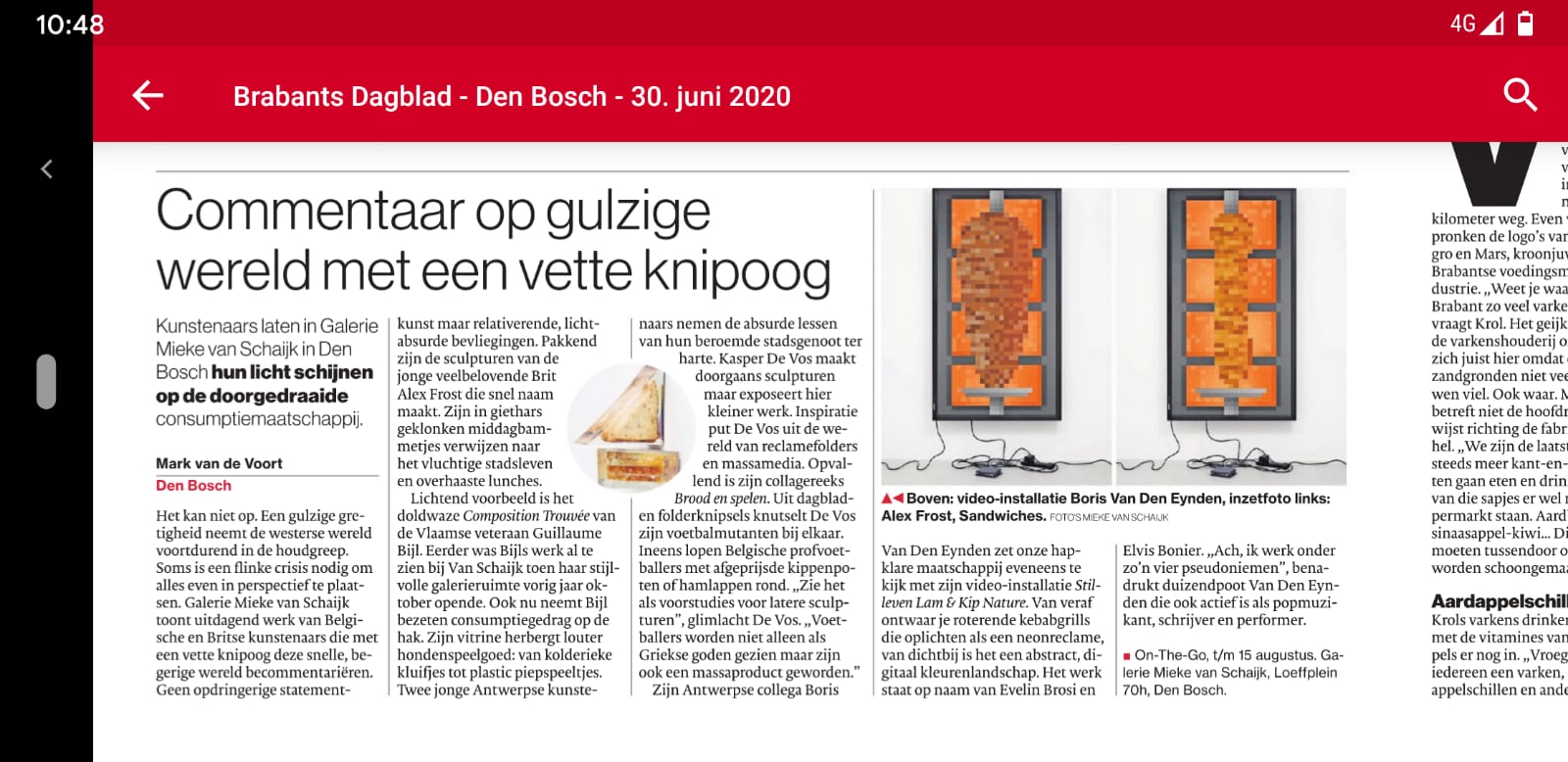 ---
Juan Pablo Plazas, Post-Card Pattern for Paradise
"This postcard is the souvenir of a trip I did around my living room while we all were confined in our houses for the last two months. In my trip I encountered other great artists, sunny beaches, hard cocktails, I also met king-kong and spiders that have no eyes. I recorded it all in a podcast that can be heard in this link":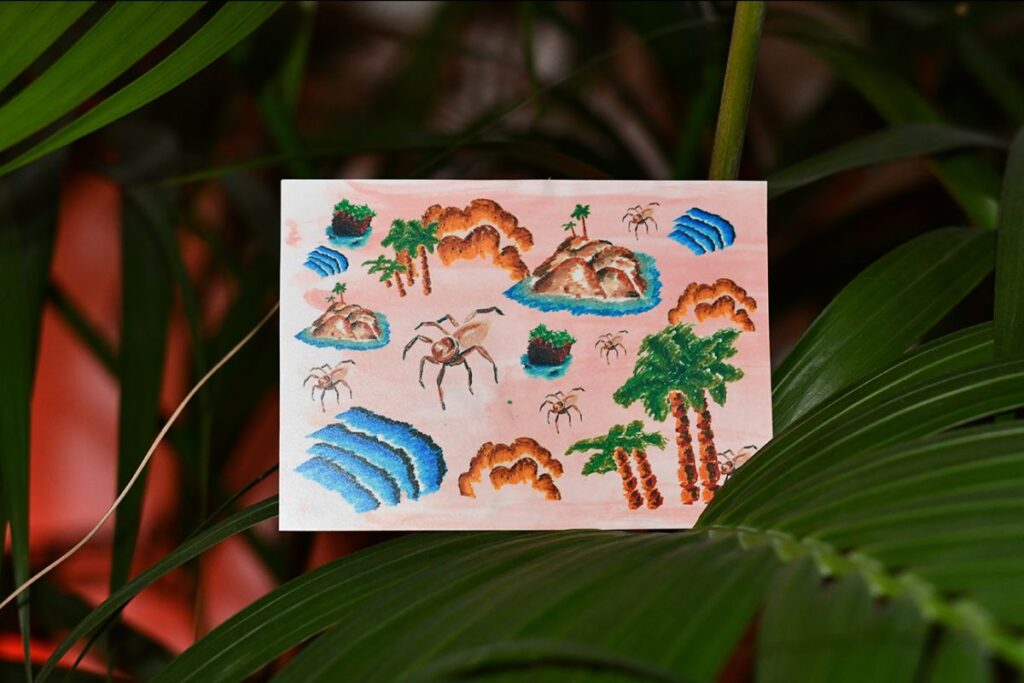 Juan Pablo Plazas
Postcard, pigmented print
10,5 × 14,8 cm
Edition of 50
Each postcard is dedicated and sent by the artist.
This postcard and podcast are part of an online project by Rectangle.be
More information: http://rectangle.be
https://rectangle.be/wp-content/uploads/2020/04/Rectangle-Kunst-in-tijden-van-corona-8-tips.pdf
https://hart-magazine.be/expo/kunst-in-tijden-van-corona-8-tips?fbclid=IwAR0k13r-AC8XGR5YCpeUDUnInwWxOmSSoCqbyQ2yCzhN_YTY-Jm_tBoJYJw
---
notcancelled.art (Netherlands)
We are happy to present Peter McDonald and Kurt Ryslavy at the Netherlands edition of notcancelled.art. An exciting program of digital art events (until 24th May) that showcases galleries from all over the world.
Please join us today at 3 PM we will stream
Art Bites: Peter McDonald by curator Jenn Ellis.
Besides the film we present several works by Peter McDonald and a wall installation by Kurt Ryslavy.
https://www.notcancelled.art/netherlands
In the episode of Art Bites curator Jenn Ellis delves into the colourful, wonderful world of Peter McDonald (b. 1973, Japan/England, lives London) who creates exquisite paintings and works on paper drawing from the intimacies of everyday life. Through the interactions between characters, tones and application there is a distinct language, one that describes the everyday through play, humour, warmth and generosity prompting us to consider the way we see the moments around us.
---
Wobbe Micha, Dorota Jurcazk
Wobbe Micha Dorota Jurcazk The two person show by Wobbe Micha and Dorota Jurcazk has been postponed. will open in September 2020
---
Sinds 16 maart zijn we alleen op afspraak te bezoeken.
From March 16th we operate on an appointment basis only. Please reach out with any questions or subscribe above to the newsletter and stay informed via email: info@miekevanschaijk.nl or by phone : +31(0)6-23690189. Thank you for your understanding.
---
ART ROTTERDAM 2020 Stand #19
De introductie van Peter McDonald
De Brits/Japanse kunstenaar Peter McDonald is in Engeland en Japan al enige tijd een bekende naam. Op het Europese vasteland is zijn werk minder bekend. Momenteel is hier voor het eerst werk van hem te zien in Galerie Mieke van Schaijk in 's-Hertogenbosch. Met enige trots presenteert de galerie zijn werk nu ook op Art Rotterdam.
Peter McDonald (Tokio, 1973) is de zoon van een Japanse moeder en een Britse vader. Hij studeerde aan de St. Martins School of Art. Hij woont en werkt in Londen en Tokio. Zijn broer Roger McDonald is de directeur van Arts Initiative Tokyo. McDonald ontving de John Moores-schilderprijs 2008. Zijn composities zijn beïnvloed door de Japanse schilderkunst. McDonald: "Bij Japanse schilderijen gaat het niet om schaduwen, maar om het boven elkaar plaatsen van afbeeldingen op een plat vlak." Zijn werk is geliefd bij verzamelaars van hedendaagse schilderkunst. Zo liet de modeontwerper en collectioneur Peter Pilotto in The Financial Times weten dat hij schilderijen van McDonald tot de favorieten in zijn collectie rekent.
Ballonhoofden Lisa Takahashi schreef over zijn werk: "Peter McDonald schildert veelkleurige visies op onze wereld, bewoond door interpretaties van karakters die we elke dag tegenkomen, behalve dat ze in de wereld van McDonald gigantische ballonhoofdem hebben. De ballonhoofden zijn doorschijnend en creëren weelderige kleurenmengsels wanneer ze interageren met andere koppen of hun omgeving. McDonald zet deze visuele middelen in om 'een verband tussen mensen en hun omgeving te suggereren'. Het is een mooi idee dat een boeddhistische overtuiging weerspiegelt – dat elke actie een reactie heeft, en dus het streven naar deugd vruchten zal plukken. McDonald's redenen om te schilderen zijn op zichzelf deugdzaam; hij wil werken maken die mensen laten glimlachen en zich gelukkig doen voelen, en hij wil dat zoveel mogelijk mensen van zijn werk genieten. In 2008 won Peter McDonald de John Moore's schilderijprijs voor zijn werk 'Fontana', waarin de ruimtelijke kunstenaar Lucio Fontana (natuurlijk met een ballonhoofd) een van zijn eivormige doeken doorsnijdt."
Anne Berkhof merkt over het werk van McDonald op: "Wat een schilderplezier in kleur en vorm, een ode aan avantgarde schilders van de twintigste eeuw!"
Guillaume Bijl
Naast het werk van Peter McDonald toont Galerie Mieke van Schaijk werk van Guillaume Bijl, de legendarische Belgische kunstenaar die eind 2019 de eerste exposant was in de nieuwe galerie van Mieke van Schaijk in het Blauwe Paviljoen in Den Bosch. Van hem zijn onder meer een vitrine vol eigenaardige hondenspeeltjes te zien uit zijn installatie 'Dogsalon Daisy' en een aantal deurmatten die de bezoeker welkom heten. Opvallend is dat soortgelijke ready made objecten als die in het werk van Bijl anno nu regelmatig te zien zijn in schilderijen van jonge kunstenaars als een ironisch commentaar op het functioneren van de consumptiemaatschappij.
Verder is er werk te zien van Kenichi Ogawa en Gino Saccone.
Opening hours. 5 February | 1pm – 10pm; preview (invitation only)
6 – 9 February | 11am – 7pm
Location, Van Nellefabriek, Van Nelleweg 1, 3044 BC Rotterdam
meer informatie: https://artrotterdam.com
---
Auditorium for distracted intelligence
Auditorium For Distracted Intelligence has been conceived by the artists Ekaterina Kaplunova and Richard Venlet as a pop-up structure that functions as a space for a hybrid public program. While being an autonomous large-scale sculptural object, AFDI hosts a series of encounters with artists, musicians, performers, thinkers and other practitioners, curated by the two artists in sync with the given context.
MIEKE VAN SCHAIJK IS PLEASED TO PRESENT AT SUNDAY ART FAIR LONDON A SOLO SHOW BY GINO SACCONE, BOOTH 14.
VIP Preview: 05.10.2017 from 12.00 to 18.00 by invitation only Opening reception: 05.10.2017 from 18.00 to 22.00 open to the public
Fair opening hours:
06.10.2017 from 12.00 to 18.00 07.10.2017 from 12.00 to 18.00 08.10.2017 from 12.00 to 16.00
SUNDAY Art Fair London, Ambika P3, 35 Marylebone Rd, London, NW1 5LS
www.sundayartfair.com – see map
For more information please contact the gallery at:
T +31 6 23690189 miekevanschaijk@xs4all.nl
Gallery MIEKE VAN SCHAIJK is more and more represented at international art shows (Rotterdam, Brussels, Rome). From 5-8 October 2017, the gallery presents work by Gino Saccone (Jersey, UK 1979) at the SUNDAY art fair in London. In Booth 14, Mieke van Schaijk presents surprising developments in his oeuvre.
The work of Gino Saccone has recently been featured in many places in the world. Now he will be on view in his hometown London. In an interview, Gino Saccone made some worthy statements about his work. Striking is that he works less than previously abstract: "I have been focusing more on gurative elements in my pictures. Mostly using watercolour as painting offers a very direct process that can keep dancing and moving and let the scenarios appear in their own way."
About his tapestries he said he became interested in plants consciousness, one
of the pictures in the show features a plant DJing while simultaneously being
a gramophone lifting a barbell. He also introduces the concept of 'Paintingless